A native Houstonian, Katherine Houston has spent the majority of her life in the Houston area. She began her career as an investment broker in the late '70s, leaving in the late '80s to begin a family. Katherine has devoted much of the past 20 years to studying and producing art.
Katherine's studies have included institutions such as The University of Houston, Glassell School of Art, The Art League and Hudson River Valley Art. She has also studied privately with a number of renowned artists, such as Will Clem, Ruth Munson, Polly Liu, Gary Hernandez, Skip Lawrence, Arthur Turner, Gael Staack and Quang Ho.
Katherine works with a number of mediums, grounds and styles of painting. She explores abstract and bold scenery as motifs to describe the idea or infinite space. Her abstract paintings usually start with a color idea, then evolve into compositions featuring color as the primary subject. Currently she is participating in a number of art exhibits and galleries in the Houston area, Dallas, Austin, Washington DC Area and Chicago. Katherine continues her education in the art world, focusing on abstract painting.
Katherine's work is held worldwide by a number of collectors, both private and public.
Laura Rathe Fine Art, 2 locations in Houston, Texas
Laura Rathe Fine Art, Dallas, Texas
The Russell Collection, Austin, Texas
Jones and Terwilliger, Carmel, California
Jones and Terwilliger, Palm Desert, California
Chloe Fine Art, San Francisco, California
Thomas Anthony Gallery, Park City, Utah
R. Alexander Fine Art, Atlanta, Georgia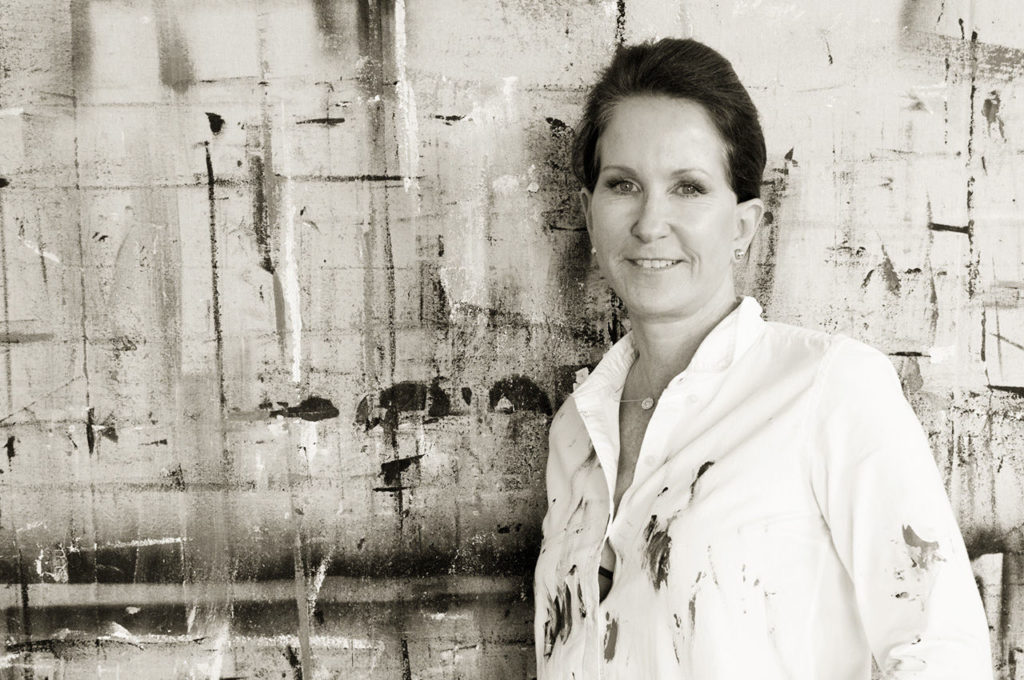 ARTIST STATEMENT
Much like trying to hold on to sand in your hand, control is the surprising outcome of letting go. It is this push-and-pull that drives me to make my art. By fully relenting to my work, I somehow gain control.
As with any work of art, I start with a blank canvas – or, often in my case, a piece of Plexiglass. I use the technique of "reverse painting," where I apply acrylic paint to the back of a piece of Plexiglas. On the other side, beneath the layers of paint, lies the fruit of my labor.
While my method of painting lends itself to the creation of abstract imagery, I still find inspiration in places grounded in reality such as a city or landscape. I choose beautiful colors that fuel my brush strokes and pull me into the painting – a serene, happy place of my own making.
Like a blind contour drawing, "reverse painting" is about having control over something that cannot fully be controlled. When I turn the plexiglass over I see the totality of what I have created: a beautiful, aesthetic interpretation of how the colors speak to me.